【#Vivien Yeo's Beauty & Lifestyle】4 healthy and nutritious Christmas feasts that are so cute, children will run over to eat them!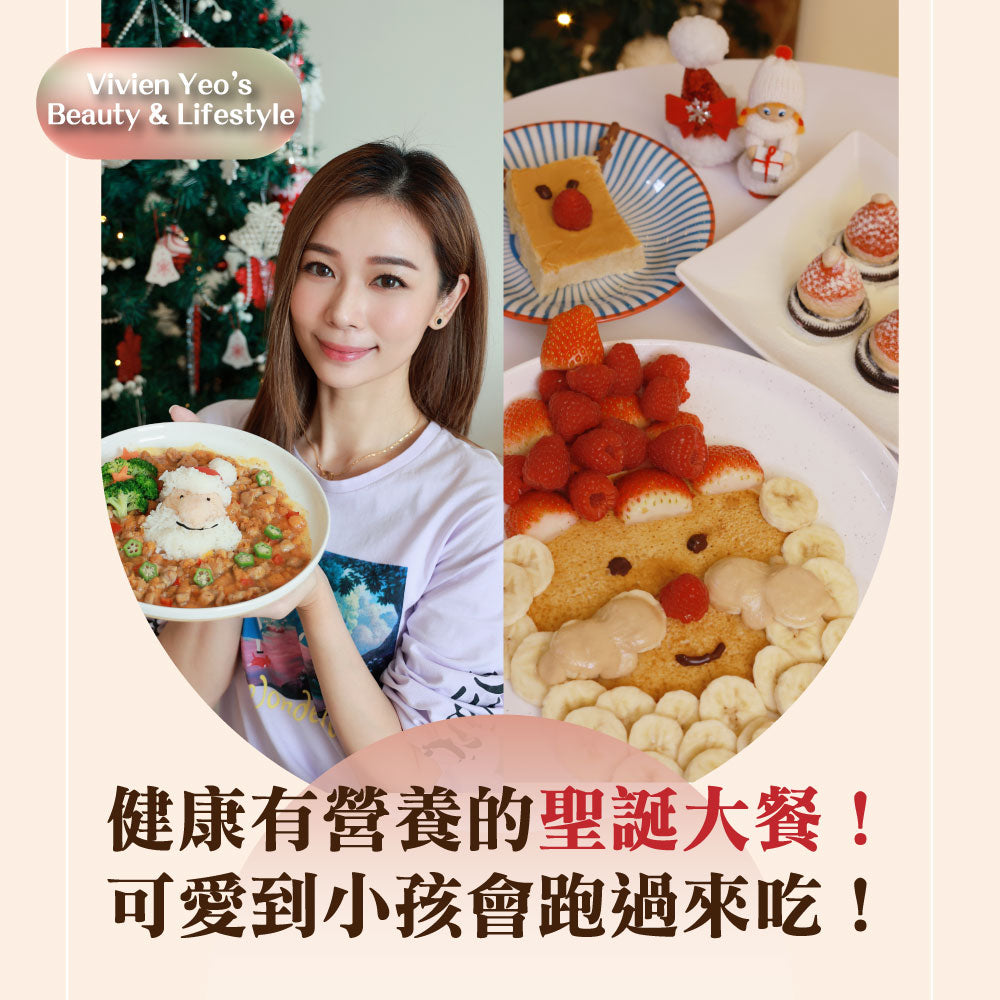 Christmas is coming, are you ready to attend the Christmas party? At the party, food must not be missing. When we were in kindergarten or elementary school, we would have a Christmas celebration. I really miss those times! In recent years, the repeated outbreaks of the epidemic have made it necessary to reduce the risk of infection , I can only take them to the malls to see the Christmas lights or go on a Staycation with them to feel a little bit of Christmas atmosphere. This year, when I took the children to the mall to see the lights, they were interested in the Christmas cake in the dessert shop. There were many candies decorated on various desserts, and many of them looked like Christmas trees. Not only them, as an adult, I felt moved when I saw them. But these kinds of desserts usually use a lot of food coloring, I don't want children to eat so much unhealthy food, so I thought it would be better to give them a different experience and cook a Christmas dinner by myself!
As a mother, I feel a little distressed when I see that my children don't like to eat meat or rice. On Christmas Day, I can cook some Christmas-shaped food, so that they can eat happily and also get nutrition, which is a win-win situation.
1)Santa Claus Pancakes
Ingredients:
Milk, flour, eggs, strawberries, cranberries, banana slices, baby yogurt, chocolate.
Method:
1. Mix the eggs, milk and flour evenly.
2. Pour cooking oil into a pan, fry both sides until golden, and then put it on a plate.
3. Use strawberries and cranberries to make a Christmas hat and nose, and banana slices and baby yogurt to make a mustache.
4. Finally, use chocolate to make the eyes and mouth of the Santa Claus, and it's done.


2)Christmas Reindeer Toast
Ingredients:
Thick toast, sugar-free peanut butter, chocolate, cookie sticks, cranberries
Method:
1. Cut the toast into smaller pieces and remove the edges.
2. Spread the sugar-free peanut butter on the toast, and place the cranberries in the middle as a nose.

3. Cut open the two corners next to the thick toast with a knife.

4. Use cookie sticks to insert into the corners of the toast to make deer horns, and use chocolate to dot the eyes, and it's done.
3)Strawberry Santa Hat
Ingredients:strawberries, banana-flavored baby yogurt, milk powder, strawberry-flavored chocolate cookies
Method:
1. Wash the strawberries, and cut off the top of the strawberries.
2. Dip the bottom of the strawberries in a circle of baby yogurt and stick them together with cookies.

3. Use a small spoon to dot a little baby yogurt on the tip of the strawberry, imitating the shape of a Christmas hat.

4. Finally, sprinkle the milk powder on the surface, and it's done.
4)Christmas Santa pumpkin chicken rice
Ingredients:
Onion, pumpkin,tomato, broccoli, Yusaika organic drip chicken essence, chicken leg, tomato sauce, okra, nori
Method:
1. Heat some oil in a pan and fry the chopped onions until fragrant.
2. Add the chicken legs and pumpkin to the pan and fry together with the onions until fragrant.

3. Add water and a pack of Yusaika organic drip chicken essence (there is no need to add any other seasonings, and the dish will still taste great, plus you'll be able to get a good amount of protein!)

4. Cover the pan with a lid and simmer until the pumpkin becomes soft.
5. While the pumpkin is simmering, you can cook the okra, broccoli, and carrot and set them aside.
6. After uncovering the pan, add cornstarch water and cook until the sauce thickens. The dish is ready to serve.

7. For the Santa Claus part of the dish, mix together some tomato sauce and some cooked white rice, then shape the mixture into rice balls using plastic wrap.
8. Cut the tomatoes into the shape of Santa's hat.
9. Use the remaining rice to shape the mustache and hat brim, and cut some nori to make the eyes and mouth.


10. Once the Santa Claus figure has been assembled on a plate, pour the pumpkin sauce next to it.
11. Arrange the broccoli and carrot to create a Christmas tree, and place the okra on the side for decoration. The dish is now ready to serve.
To make healthy and delicious dishes that children will enjoy, we need to put some effort into choosing the right ingredients. As you can see, I used a lot of vegetables and fruits in the decoration, such as broccoli, tomatoes, strawberries, and bananas. When these are arranged into cute shapes, children are more likely to eat them, which can also help improve their picky eating habits. On the other hand, I recommend avoiding using high-sugar sauces for decoration and instead using unsweetened peanut butter, baby yogurt, or powdered milk, so that children can avoid consuming unhealthy ingredients. When it comes to seasoning, use less salt and sugar, and try usingYusaika Organic Drip Chicken Essence like I did to add a more natural sweetness and a good amount of protein, which is beneficial for children's development.
---